TUESDAY'S SHOPPING

FOOD TOWN (Tuesday):
12 pack diet soda - $1.99
2 rolls Italian sausage @ 2.49 each (minus $1.00 coupon) - $3.98
Bean sprouts - $.99
Green onions - $.50

TOTAL - $7.60

HEB (Tuesday):
1 quart heavy cream - $3.56
Shower spray - $1.97
Sugar free drink mix - $1.88
Nasal strips - $6.88

TOTAL - $14.61

SPROUTS (Thursday):
2 eggplants @ .98 each - $1.96

TOTAL - $1.96

KROGER (Thursday):
Peanut butter @ 1.67 (minus 10% discount/.45 coupon) - $1.05
18 eggs @ 3.42 (minus 10% discount) - $3.08
8 ounce sour cream @ .99 (minus 10% discount/.40 coupon) - $.49
1/2 gallon milk @ 1.99 (minus 10% discount/.50 dairy coupon) - $1.29
Peanuts @ 1.99 (minus 10% discount) - $1.79
12 pack diet soda @ 2.39 (minus 10% discount) - $2.15
10 CARBmaster yogurt @ .40 each (minus 10% discount/.40 coupon) - $3.20
American cheese @ 4.19 (minus 10% discount) - $3.77
9 bags shredded cheese @ 1.99 each (minus 10% discount/.65 cheese coupon) - $15.46
Community coffee @ 3.99 (minus $2.00 coupon) - $1.99
4 cans tuna @ .74 each (minus 10% discount) - $2.68
Foil @ 1.99 (minus 10% discount) - $1.79
Plastic wrap @ 1.45 (minus 10% discount) - $1.30
Frozen green beans @ 1.00 (minus 10% discount/.40 coupon) - $.50
Frozen cauliflower @ 1.00 (minus 10% discount) - $.90
Frozen California blend veg @ 1.00 (minus 10% discount) - $.90
2 boxes tissue @ 1.00 each (minus 10% discount/.45 coupon) - $1.35
2 ice cream @ 2.50 each (minus 10% discount/.40 coupon) - $4.10
Smoked salmon @ 5.99 (minus 10% discount/$1.50 coupon) - $3.89
Napkins @ .97 (minus 10% discount) - $.87
Popcorn @ 1.00 (minus 10% discount) - $.90
Coupon for $5.00 off a $50+ purchase

TOTAL - $48.65

WALMART (Thursday):
Printer paper - $3.47
Dish gel - $2.98
Ragu - $1.68
4 ounce green chiles - $.58
10 pair socks - $6.97

TOTAL - $16.79

ALDI (Thursday):
Bread - $.99
Coffee - $2.79
Decaf - $2.69
1 can mushrooms - $.59
Parmesan cheese - $3.99

TOTAL - $10.91

GRAND TOTAL FOR 3 WEEKS - $100.52 ($33.50 per week - $49.48 left to spend between now and Jan.3)


THURSDAY'S SHOPPING
Note that this shopping list covers a span of three weeks. That's because Christmas and New Year's Day fall on Thursday, which is my regular shopping day. So, today I shopped for three weeks worth of groceries and other things that I will need between now and January 3rd. I will do filler shopping trips on the next two Tuesdays but I will only need to get a few items. My next big shopping trip will be on January 8th.

Although I spent just over $100 this week, that works out to only $33.50 per week when divided by three weeks. To stay within my $50 per week budget, I've still got another $49.48 left to spend on those two Tuesdays but I doubt if I'll need to spend that much. I made a quick list of items that I know I'll need to pick up and it only comes to about $15.

I did really well at Kroger today. I saved $18.45 with my 10% senior discount and a bunch of coupons. I very rarely spend $50 at Kroger but I made a point of doing so today because I had a coupon good for $5.00 off a purchase of $50 or more. This was the perfect time to use the coupon because I was shopping for three weeks all at once. To get my total bill up to $50 (after my discount and other coupons were deducted from the total), I stocked up on a few things that I would need to buy soon anyway. I got things such as plastic wrap, foil and tissues, etc. I also bought all the cheese that I'll need over the next few weeks because it was on sale this week and I had multiple coupons for cheese and dairy products.

Probably the best deals this week were on the Community Coffee and the smoked salmon. The coffee was on sale for $2.50 off the regular price and I had a $2.00 coupon. I paid $1.99 for it and it usually costs $6.49. Of course I never buy it when it's that price. That would be silly. The other good deal was on the smoked salmon. That was a big indulgence but I decided to splurge for the holidays. I'm probably going to make my Cajun Smoked Salmon Dip and some Sesame Almond Crackers for New Year's Eve. I haven't made that dip in years and it's really good. The dip recipe calls for packaged ranch dressing mix but I will use my own homemade mix.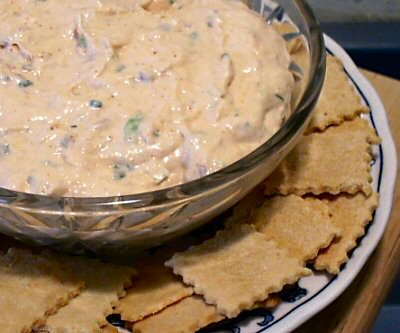 CAJUN SMOKED SALMON DIP
---