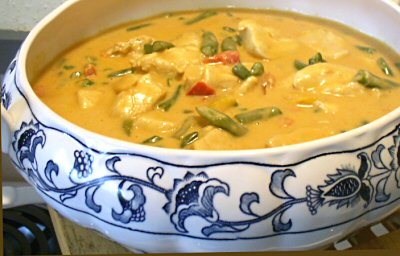 CHICKEN WITH PEANUT CURRY SAUCE
Well, grilling Seoul Chicken outside is out for today. It's pouring rain. I think I'll make a peanut chicken curry instead. I'm pretty sure that I've got everything I need to make that. If I don't have any frozen green beans, I know that I do have an Asian blend that will work just as well. I will need to thaw some creamed coconut for the sauce though. I have a few boxes of the stuff that my friend sent me from England and I keep it in the freezer. It comes in a block that looks like a bar of soap and you have to chop off chunks of it and mix with water.
I just checked the freezer and I've got two boxes of the creamed coconut left plus a small chunk. One box is equal to a can of liquid coconut milk. I don't have any cut green beans, only French cut, so I'll use the Asian vegetable mixture. I've also got a bag of frozen bell pepper and onion blend and there is enough peanut butter left in the jar. It's the regular kind with sugar in it but the carb count is the same as the natural kind. A carb is a carb and it's the only peanut butter in the house.
---