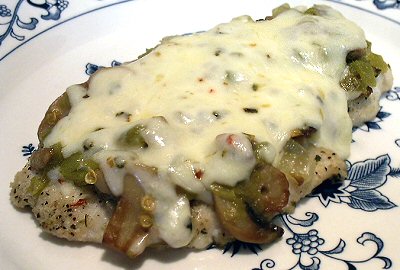 Chile Chicken Monterey
I've got four of my favorite low carb meals planned for this week. I've already got most of the ingredients on hand because I stocked up when the price was right. I'll only need to pick up the necessary veggies just before I make them.
Today I'll be making my Pizza Toppings Casserole. On Tuesday I will make Sloppy Joe Stuffed Peppers. I just hope that they've got nice peppers in stock when I shop tomorrow. Thursday it's Chile Chicken Monterey and on Friday I'll make Dottie's Burger Scramble Florentine. I got cream cheese for 99-cents a couple weeks ago so I just need to get a box of frozen spinach when I shop on Thursday.
For this week at least, my family will have mainly low carb meal options except on Saturday when I will cook some frozen ravioli for them. They've also got leftover roast chicken, a little bit Asian pork stir-fry (served on rice), which is based on my Thai Pork Lettuce Wraps recipe, and spaghetti to choose from.
I almost forgot about the Ham & Cheese Quiche that I baked this morning for my husband's breakfasts. He likes my low carb quiches and they keep him from eating carby foods for breakfast.
---