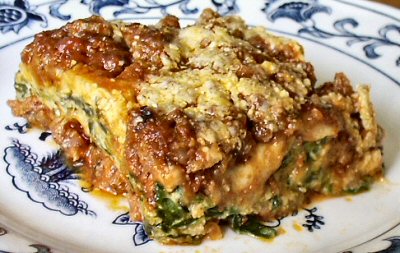 Spinach Lasagna
Now that the Mushroom Chicken and Sausage Casserole is gone, it was time to make another one of my favorites; Spinach Lasagna today. This time I made the variation at the bottom of the page. It makes more servings by adding a pound of Italian sausage to the pound of ground beef. I didn't tweak anything this time except to put in a bit more sauce. I made a double batch of Amy's Marinara and just went ahead and used all of it rather than freeze half a cup.
I forgot to mention that on Tuesday I got a great deal on some marked down ground beef at Food Town. They had two packages (a total of about 7 pounds) marked 99-cents per pound. This time I made it into patties and froze them raw. I arranged them on a wax paper-lined baking sheet and froze them until they were solid. Then, I stacked them, with the wax paper in between each patty, in plastic storage bags and put them in the freezer. When I want to make burgers for the family, I can cook them straight from the freezer in my NuWave oven.
I spotted some new and/or interesting items at Walmart and Kroger today. Walmart now has Bob's Red Mill almond flour in a 1-pound bag for $9.98. You'll find it in the gluten-free section where they also had Bob's Red Mill flax meal for $2.97. However, it wasn't the golden kind and that's the only kind I will buy anymore.
Walmart also had some new Atkins frozen meals in stock in case anyone is interested in those. They now have Chili Con Carne, Chicken Marsala, Italian-Style Pasta Bake and Sesame Chicken. I don't remember what they used to cost but they were tagged "Price roll-back" and were $3.48.
I've seen these before at Walmart but thought I'd mention them here. In the deli department they sell Kitchen Table Bakers, which are cheese crisps in fancy packaging. I tried them once many years ago and they were pretty good but VERY expensive. They're $4.98 at Walmart for 3 ounces of the Aged Parmesan Crisps. Their website appears to be kaput but you can also get them at Netrition for a penny more than Walmart. They come in other flavors but Walmart only has that one kind. Netrition has a few flavors.
It looks like Kroger has a couple new flavors of their CARBmaster yogurt; Pumpkin Pie and Blueberry Muffin. There wasn't any of either one in stock today so I couldn't try them. I noticed that they seem to be phasing out there "lite" yogurt in favor of the CARBmaster, which suits me just fine. They only had maybe five or six flavors in the lite yogurt and I remember that they had loads of them back when I used to eat that kind several years ago. Back then the CARBmaster yogurt was new and not very good. It was very chalky and watery and only came in four or five flavors. They've since added some fat to it and reformulated the recipe and it comes in lots of tasty flavors. My favorites are the Caramel Spice Cake and Cherry. I also like the White Chocolate Raspberry but I have to drive to a different Kroger for that one because my regular store no longer stocks that flavor.
UPDATE: While talking about the CARBmaster yogurt, I forgot to mention that I had a coupon for 50-cents off three containers, which is why I was looking at it in the first place. I bought two containers of Caramel Spice Cake and one container of Cherry. They're 40-cents each where I shop so I paid 58¢ for all three after the coupon and the senior discount. That's only 19-cents each!
I was pleased to see that Kroger has finally corrected the nutritional label on their brand of pork sausage now. For many years the label has listed 2 carbs per 2 ounces of sausage which would work out to 16 carbs per one pound roll. That was obviously wrong because no other brand has that many carbs for the same basic ingredients. The new label states zero carbs per 2 ounces now and the ingredients are still the same as always. I knew that 16 carbs was wrong so I never hesitated to buy that brand.
---