TUESDAY'S SHOPPING

KROGER (Tuesday):
2 Ice cream @ 2.98 each (minus 10% discount/.40 coupon) - $4.96
Peanut butter @ 1.79 (FREE coupon) - $.00
1 can tuna @ .69 (minus 10% discount) - $.62
1 can great northern beans @ .69 (minus 10% discount) - $.62
Parmesan cheese @ 2.97 (minus 10% discount) - $2.67
2 pounds dark brown sugar @ 1.50 (minus 10% discount) - $1.35

TOTAL - $10.22

WALMART (Tuesday):
4 ounce can green chiles - $.58
Distilled water - $.88 (for ironing)

TOTAL - $1.46

ALDI (Tuesday):
Flour - $1.19
Sugar - $1.39
Decaf coffee - $2.69
Coffee $2.79
1 pound baby carrots - $.69
5 8-ounce packages cheese @ 1.89 each - $9.45
1 pound butter - $2.29
1 pound jalapeños - $.70
Pork rinds - $.99
Brown & serve rolls - $.59
Bread - $.99
2 dozen eggs @ .99 each - $1.98

TOTAL - $25.74

GRAND TOTAL FOR THE WEEK - $37.42

It's supposed to turn really cold here on Thursday and there were some things on sale at Aldi that I wanted to get before their sale from last week ended. So, I went ahead and did all of my shopping for the week today. I got a few more items for the Thanksgiving dinner and also some ingredients for Christmas baking. I will make a few Christmas cookies for my husband and son.

The strawberry ice cream and the rolls are for Thanksgiving. Aldi had the rolls marked down to 59-cents. Since they're about to expire, I stuck them in the freezer for now. I will be making a strawberry jello salad for the guys which calls for strawberry jello, strawberry ice cream, frozen strawberries and Cool Whip. Too bad that it's not low carb because it's delicious.

The only things left to buy for Thanksgiving dinner are the celery, a few potatoes, 2 pounds of mushrooms and maybe a frozen fruit pie for the guys. I will also make a homemade high carb pumpkin pie for them so perhaps they don't need a second pie. I'll wait and see if Food Town has a good sale on pies just before Thanksgiving. They sometimes have them super cheap. If not, the guys will have to be content with pumpkin pie.

I bought the great northern beans and the carrots to make a pot of White Bean Soup this coming weekend. I'm not sure yet if I will eat any of it but the carbs aren't too terribly high for a small serving. The recipe is an old family favorite. I was going to buy two carrots but Aldi had a pound of the baby ones for only 68-cents. I figured that I'd spend at least that much for two large carrots by the pound and Jerry can snack on the leftover carrots.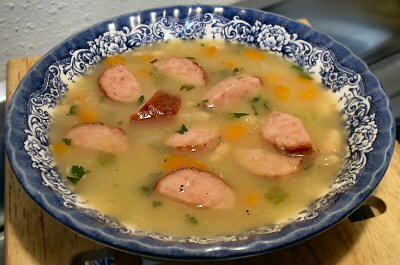 ---