TUESDAY'S SHOPPING

HEB (Tuesday):
Quart heavy cream - $3.56
Ice cream @ buy one/get one free - $4.48
Ground pork @ 3.40 (marked down 25%) - $2.55
Burger buns - $1.28
12 ounce garlic powder (marked down because cap was broken) - $3.00

TOTAL - $14.87

Food Town (Tuesday):
8-pack paper towels - $3.44
12-pack toilet paper - $3.44
Colgate toothpaste - $.99
Jalapeños @ .69lb - $.75
Onions @ .79lb - $1.04
Garlic @ 1.99lb - $.30

TOTAL - $10.53

KROGER (Thursday):
2 dozen eggs @ .99 each (minus 10% discount) - $1.78
2 jars peanut butter @ .99 each (minus 10% discount) - $1.78
Boneless chicken thighs @ 1.99lb - $6.35
Boneless chicken breasts @ 1.99lb - $9.51
3 16-ounce bags shredded cheese @ 3/10.00 (minus 10% discount) - $9.01
3 bags Asian style frozen vegetable blend @ .88 each (minus 10% discount) - $2.37

TOTAL - $30.80

SPROUTS (Thursday):
Loaf of bread @ 3.99 (FREE coupon) - $.00

TOTAL - $.00

WALMART (Thursday):
Cauliflower @ 1.98 (price match with Aldi ad) - $.79
Glue pen - $3.00
Dry erase board - $2.37

TOTAL - $6.60

GRAND TOTAL FOR THE WEEK - $62.80

(over budget by $2.80)




THURSDAY'S SHOPPING
I wouldn't normally buy onions when they're that expensive but I was running low on them and I especially needed a large one to put on burgers. Oh well. They're even more expensive than that at Walmart and most other places.

Kroger has some nice sales this week for their "Grand Re-Opening" because they recently remodeled the store. Because I had to buy the large family size packages of chicken, I spent a bit more than I would have liked and that put me over my budget a little. I don't mind buying the large packages of chicken because I can divide them into individual bags when I freeze them and then only thaw as many as I need.

I only got one item at Sprouts this week and I only went there because I had a coupon for a free loaf of bread. My husband is still eating toast every day so free bread is a nice thing. I also had a coupon for a free can of coconut water. I've never had that before but the carbs were too high for me and Jerry doesn't like coconut much. So, I gave my coupon to a woman who was shopping in the store. I just chose someone at random and she was all excited and said that she buys that stuff all the time. Go figure.

I think that's the lowest price I've ever seen on fresh cauliflower. That was the only thing that I wanted from Aldi so I decided it wouldn't be worth the gas to drive there just for one item. So, I bought it at Walmart and they matched Aldi's ad price. It's a huge cauliflower and very fresh too. It wasn't on my menu for this week but I'm going to use it to make a batch of Cauliflower & Ham Salad tomorrow. The recipe makes a huge bowl and will last us several days. I will leave out the grape tomatoes this time to save money and I'll add extra hard boiled eggs to boost the protein. Today I made Chicken Cordon Bleu Casserole, which also makes a lot of servings, so I shouldn't have to cook again until at least Sunday or Monday other than to make a quiche when the current one in the fridge is gone.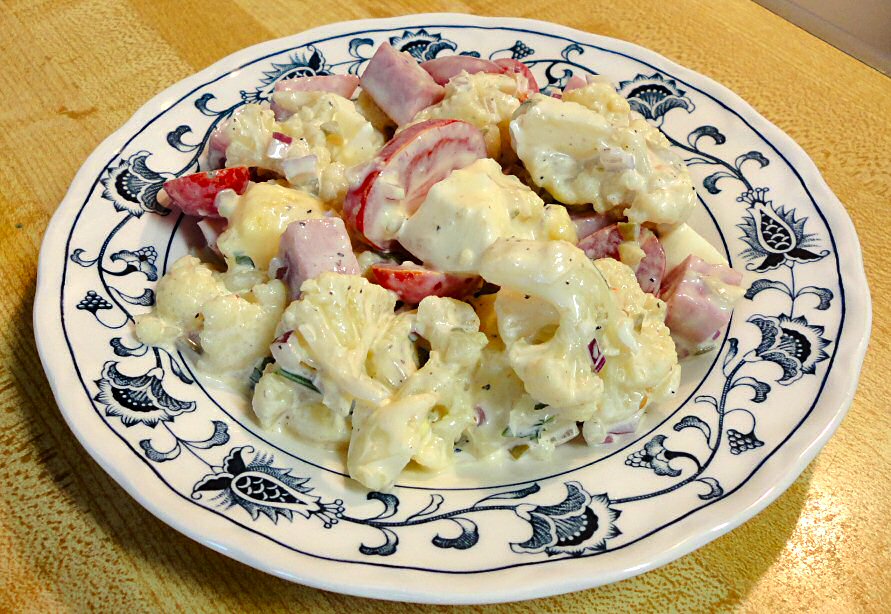 CAULIFLOWER & HAM SALAD
---