TUESDAY'S SHOPPING

HEB (Tuesday):
Quart heavy cream - $3.56

TOTAL - $3.56

Food Town (Tuesday):
Jicama @ .99lb - $1.04
Ground beef @ 1.49lb (marked down) - $21.18

TOTAL - $22.22

Kroger (Tuesday):
8 CARBmaster yogurt @ .40 each (minus 10% discount) - $2.88

TOTAL - $2.88
THURSDAY'S SHOPPING

KROGER (Thursday):
2 12-packs diet soda @ 2.39 each (minus 10% discount) - $3.05
12 eggs @ 1.99 (minus 10% discount) - $1.79
16 ounces shredded cheese @ 2.99 (minus 10% discount) - $2.69
6 ounces sliced cheese @ 2.50 (minus 10% discount) - $2.25
8 ounces Colby cheese @ 2.50 (minus 10% discount) - $2.25
2 packages batteries @ 2.49 each (minus 10% discount) - $4.48 (50% off this week)
Sugar free ice tea mix @ 1.79 (minus 10% discount) - $1.61
Napkins @ .97 (minus 10% discount) - $.87

TOTAL - $19.68

WALMART (Thursday):
Coffee - $2.98
Decaf - $2.78
Clear Passage - $7.47 (up from $6.67)
Dryer sheets - $2.26
Cabbage @ .42lb - $.68
8 ounces turkey pastrami $2.50
Refill size shower cleaner - $3.67

TOTAL - $23.45

GRAND TOTAL FOR THE WEEK - $71.79

(over budget by $11.79)



I went quite a bit over budget this week, partly because I didn't want to pass up the $1.49lb marked down ground beef on Tuesday and also because Kroger had their batteries 50% off this week. We needed to stock up on AA and AAA batteries. On top of that, the Clear Passage nasal strips have gone up from $6.67 to $7.47 and Walmart was out of the smaller spray bottles of shower spray so I had to buy the large refill size.

I went to Kroger twice this week because I wanted to get some of their CARBmaster raspberry white chocolate yogurt which I can't get at my regular Kroger store.

I made several changes to this week's menu. Because we ate dinner at a wedding last Saturday and went out for dinner on Sunday, we ended up with so many leftovers from last week that we were still eating them yesterday. I never made the Tuna Muffins and I've taken the Green Enchilada Chicken off the menu as well. We've still got quite a bit of the pot roast left and almost all of the Coney Island Chili Dog Pie. If by some chance we run out of food between now and Sunday, I can always make burgers. I have some frozen patties that are already cooked and I've also got frozen raw patties that I made with some of the marked down ground beef that I bought on Tuesday.

I'm making one other change too because I ordered some blanched almond flour from Honeyville last week. Instead of making the Frozen Strawberry Dessert, I'm going to make Kent's Low Carb Poke Cake with a couple of changes. I'm thawing some frozen strawberries and draining them. I will use the strawberry juice in place of some of the water when I make the jello and I will spread the berries over the top of the cake before adding the topping. I have a feeling that it will look a little messy with the berries on it but I'm sure that it will taste great.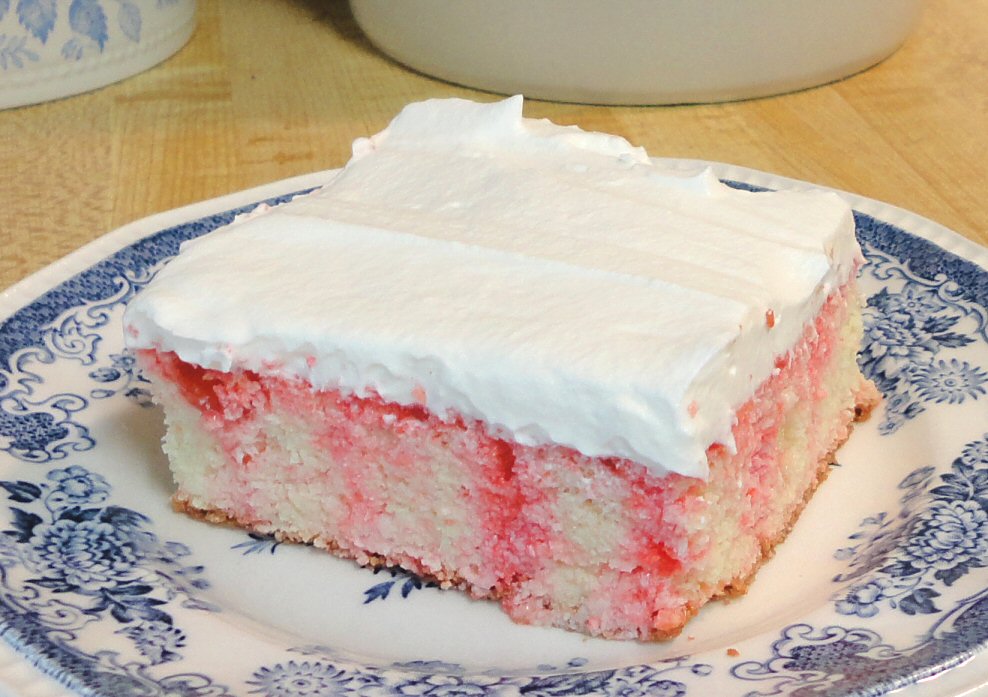 LOW CARB POKE CAKE
---