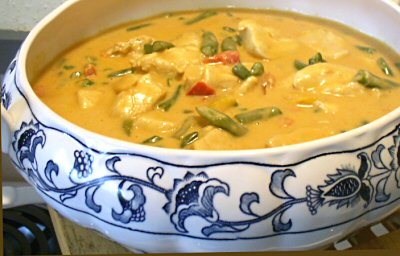 Chicken with Peanut Curry Sauce
I made another all-time favorite for dinner today. This recipe is originally from Sandra Lee's "Semi-Homemade" TV show on Food Network but I've made a few changes. In fact, I don't make it exactly the same every time. This time I threw in a whole 16-ounce bag of Parade Oriental Blend frozen veggie mix. It's a mixture of French-cut green beans, onions, mushrooms and broccoli. I also put in about half a bag of frozen bell pepper and onion blend. That has green, red and yellow bell peppers in it and they're cut into strips. I'm not even sure how much chicken I used this time. I had a large package with about 10 boneless thighs. I'm sure that we'll get at least six servings with all the chicken and vegetables that are in it this time.
The chicken gave off a lot of juices which made the sauce a little thin. So, I added 1/2 teaspoon of xanthan gum to thicken it up and it came out just right.
The brand of red curry paste that I buy is from Thai Kitchen. It seems to be the brand that all the stores sell around here and it's very good. I have no trouble finding it at Kroger and Walmart.
I cooked some rice for the guys to have with their curry and I just put mine in a bowl and ate it with a soup spoon. I didn't want to miss any of the yummy sauce. Click here to see my version of the recipe.
---