I've added something to my menu for this Saturday. I'm going to make the Chicken Noodle Soup from Elana's Pantry blog. That's what the zucchini and the carrot in the photo are for. Elana diced her carrot but I'm thinking that I might julienne mine just like the zucchini. I'm not sure yet if I'll use my julienne peeler to make the "noodles" or my spiral slicer that looks like this: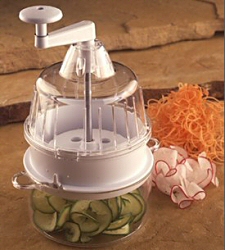 I really wanted to get a yellow squash for the noodles but those were too expensive and they looked half spoiled. The Mexican calabazo "zucchini" were half the price per pound and looked fresh. Come to think of it, I will have to use the julienne peeler because the squash may be too small for the spiral slicer. I may use it for the carrot though so that they won't take as long to cook in the soup.
By the way, the cream cheese and the tuna were both great bargains. The cream cheese was on sale for 99-cents at Food Town and HEB had a coupon for buy two 12-ounce cans of tuna and get a third one free. Their small 5-ounce cans were 70-cents each (14-cents per ounce). With the free can, the tuna I bought works out to 11-cents per ounce. The large cans were $2.07 per can so normally it would have been cheaper to buy the small cans, if not for the free one. The Jimmy Dean sausage wasn't on my list but it was only $1.99 at Food Town.
---