I only got a few goodies this week. Food Town had 24-ounce packages of thick-cut bacon for only $4.99. I'm baking the second batch of it in the oven as I type this (see Oven Bacon). The guys are enjoying the first batch. I also got two packages of shredded mozzarella cheese for the Deep Dish Pizza I'll be making tomorrow. Those were on sale for $1.77 each. Since it takes only half a package of cream cheese to make the crust, and I don't know what else I'd do with half a package, I'm going to make two crusts and freeze one for another time.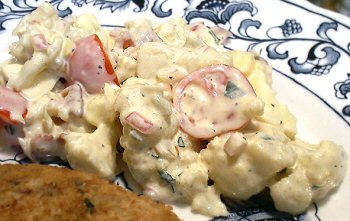 BLT "Potato" Salad
I also couldn't pass up a nice head of cauliflower for only 99-cents. I'm thinking about making BLT "Potato" Salad with it but I'll have to wait until after I do my Thursday shopping and get some grape tomatoes and a red onion
.
HEB still had their canned pizza sauce for 55-cents each so I bought three more of them. They also had a deal on ribeye steaks for $3.97 pound if you spent at least $10. I got a package of three which we're going to have for dinner tonight. It would have been nice to have the cauliflower salad with the steaks but I had no idea until I got home what I was going to make with it or I would have bought the tomatoes and onion this morning.
---