Kroger is having one of their "mega sale events" this week where you get $5.00 off any five specially marked items throughout the store. Most of the time they don't have five items that are worth buying but this week they do. Besides buying 3 boxes of cereal for my son, I got 18 eggs for only $1.24 after the dollar off and my senior discount. I also got an 8-ounce block of Kraft cream cheese for 99-cents.
Kroger also has their cottage cheese for $1.99 ($1.79 with my discount) and butter for $1.77. I got two pounds of the butter for $1.59 each after my discount. I got a 16-ounce bag of Kroger shredded mozzarella and a 16-ounce chunk of colby cheese for $2.59 each (sale price is $2.88). It wasn't on sale but they had my favorite White Chocolate Raspberry CARBmaster yogurt in stock. My store doesn't usually sell that flavor so I have to go to a different Kroger when I want some. It looks like they're filling in that space with the White Chocolate Raspberry while they're out of the Blueberry Muffin flavor. That's just fine with me.
Community coffee is on sale again this week, just when I'm nearly out of my current stash of it. Funny how they time the sales around how quickly I use mine up. I only drink coffee about three times a week so a bag lasts me quite a while. Anyway, it's $3.99 per bag at Kroger this week and I had two $1.00 off coupons. So, the two bags that I bought were only $2.99 each.
I like to keep whey protein powder on hand to make shakes for myself for times when I'm short on low carb options in the fridge. I was out of it but they had a $3.00 coupon for Body Fortress brand in the Sunday paper this week. Luckily, Kroger has the Body Fortress Whey Isolate on sale this week because even with the coupon it would have cost over $20. I only buy the whey isolate because Body Fortress's regular whey protein now has way too many carbs per serving. The whey isolate is normally $25.99 at Kroger. This week it's on sale for $20.79 so I paid $17.79 with my coupon.
Last week Kroger had boneless chicken thighs on sale for $1.77 pound but they were out of them the day I shopped. So, I got a rain check and bought them today.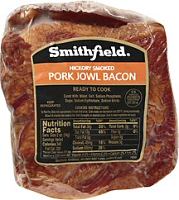 I splurged on a little treat at Walmart today. It's been a while since they've had it in stock so I picked up some Smithfield jowl bacon. You can read my review of it HERE on my main website. It really isn't terribly expensive for bacon but it's still an indulgence that I don't buy often. It's $2.88 pound which is quite reasonable for such good, smoky bacon.
Yesterday I made myself a low carb pizza and it came out wonderful. I topped it with a full 8 ounces of shredded mozzarella, pepperoni, Italian sausage, fresh mushrooms, bell peppers and onions. As I mentioned the other day, I did make an extra crust with the rest of the cream cheese and it's in the freezer for another day.
Today when I got back from shopping, I made a big bowl of BLT "Potato" Salad with a few tweaks. I didn't put any bacon in it but I did put most of a 10.5-ounce container of halved cherub tomatoes. I also put in 8 hard boiled eggs instead of the three that the recipe calls for. I like to make my veggie salads double as main dishes when I can by adding extra protein to them such as eggs or ham. A big serving of this salad makes a very nice lunch and it's one of my favorites.
---