I found out the hard way that you do not want to do your grocery shopping on the 4th of July! It's my normal shopping day and I foolishly assumed that most people had done their holiday food shopping on Wednesday. Wrong! Everyone in Spring was at Walmart and Kroger this morning.
I was out of frozen fish filets so I bought one of those 4 pound bags of individually wrapped tilapia filets at Walmart. Although it wasn't on my shopping list, I bought some because the price was only $10.98. I figured that if I waited another week or two, the price would go up to $12.00 or more. It has been that high in the past and Walmart's prices seem to go up and down from week to week. Anyway, I bought the fish and I'll get at least four or five meals out of it.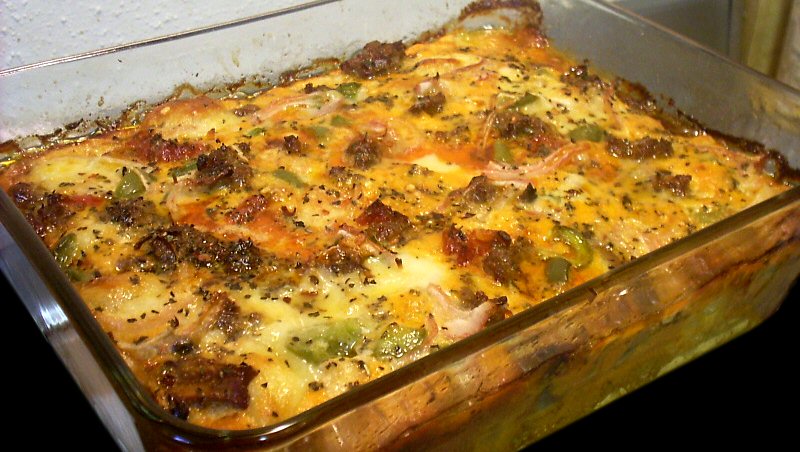 Pizza Toppings Casserole
I got some bad news at Walmart today about their Great Value heavy whipping cream. Now that it comes with their new label on it, they've also changed the formula. It used to be simply heavy cream and some preservatives but now they're watering it down with milk like some other brands do. The label used to say zero carbs per serving and now it says one carb. Of course the zero carb count was never correct. It was simply that they had rounded a fraction of a carb to zero. The odd thing is that none of the other counts have changed. There are still 5 grams of fat per serving and 50 calories per tablespoon. Again, that's probably due to numbers being rounded up or down to the nearest whole number. I'm not going to worry about it too much because it's unusual to find heavy cream anymore that doesn't have milk added. I can't afford to buy a brand name cream so I'll just make do with the Walmart cream or HEB's which is the same price per quart as Walmart's.
I found a new product at Walmart. I was going to buy some Armour pepperoni which is $1.98 for 6 ounces there. That's been the cheapest brand they've sold there for a while now and it tastes just as good as Hormel's which costs more. Now they have Tyson brand in a 7 ounce bag for $2.00. I bought some but I haven't tasted it yet to see if it's any good. The interesting thing is that they also sell the Tyson pepperoni diced in tiny cubes for using in recipes. I picked up a bag of that to try too. You also get 7 ounces for $2.00 of that kind. I might throw a handful into my Italian Casserole or Spinach Lasagna just for fun. I'm planning to make my Pizza Toppings Casserole next week but I won't use it for that. I like having large pieces of pepperoni and mushrooms, etc. in that dish.
---