I've only got one more serving left of Dottie's Burger Scramble Florentine for tomorrow. I checked my menu and was surprised to see that I made that last Friday. So, it fed me every day for a week since I'm the only one here who had any of it. That's the beauty of making casseroles; cook once and eat for several days.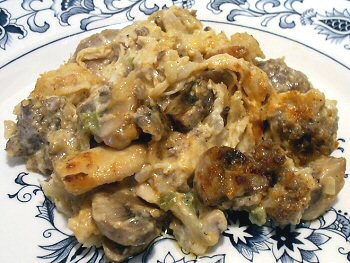 MUSHROOM CHICKEN AND SAUSAGE CASSEROLE
Today I'll be making another one of my all-time favorite casseroles: Mushroom Chicken and Sausage Casserole. I've made it countless times over the years. The whole family will be sharing it so I don't think it will last more than about three or four days.
I've only got a 12-ounce package of frozen cauliflower, and the recipe calls for 16 ounces, so I bought two containers of fresh mushrooms to put in it to add more bulk. They were so cheap at Aldi that it would have been silly to pass them up and you can't have too many mushrooms. That's the only tweak I'll be making to the recipe this time but I should mention that this is also very good with some broccoli added.
Has anyone else tried this recipe? I think that I will post here on my blog whenever I make any tried-and-true recipes so that everyone can comment on them, ask questions or tell about any tweaks you've made that you'd like to share.
---